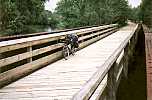 I finally made it to the town of LaValle, and after stopping to ask, found the rest of the "400" trail. The trail is beautiful here. It parallels the narrow Baraboo river, which it crosses many times, through wet woodlands full of flora and fauna. The bridges are made of old, rusted, steel girders with wooden plank bridges inserted for trail users. The trees along either side of the trail break up the wind, which was hardly noticeable now. Ok, maybe the $2 was well spent. With only eight more miles of trail left, I stopped on the bridges and in clearings to take pictures and soak up the day.
About half way between LaValle and Reedsburg, placed in the middle of a small clearing along the trail, was a large rock with a plaque on it. I stopped, read the plaque, and took a picture of it for later reference. The picture is somewhat out of focus, but I can still decipher all but Mike's last name.
Mike's Place
This land between the Old 400 Trail and the Baraboo River is dedicated to Mike Beuthling[?]. He eagerly biked the trails and canoed the streams through the woodlands he loved. Rest a moment, regain your strength, and refresh your spirit before continuing your journey.

                                             Mike's Family and Friends
                                             June 9th, 1992[?]

. . . Amen . . . . . I took some slow, deep breaths and relaxed a while.
I passed some older folks riding towards me from Reedsburg and before long I was at the end of the trail. There was a sign describing the detour around Reedsburg's torn up main street. There was also a mailbox full of brochures describing the amenities available in Reedsburg and maps of the Old 400 Trail. I took a map to reference while writing this article and noted that Union Center is exactly four miles south of Elroy. I drew a facsimile of the detour route onto my map. Reedsburg is a relatively big town with a population of 5,000. The other towns I'd passed today had well under 1,000 people.
As I entered downtown Reedsburg I was struck by a few rain drops. I stopped at a super market to make ready for the rain with covers for my panniers and garbage bags for my tent and sleeping bag. While I was doing that I noticed that my chain was gritty with limestone dust. I'd heard a little squeaking as I rode into Reedsburg, too. I took out a small bottle of Pace Line oil and emptied it on my chain. The raindrops subsided as I rode out of Reedsburg.
On this day and the next I relied heavily on the Wisconsin State Bicycling maps to find my route. I kept the appropriate map folded up in the transparent top of my handlebar bag at all times, nearly destroying one of them in the rain. I tried following the suggested, green route, out of Reedsburg, but became impatient with it and turned back out to highway 33, which was marked red, unsuitable. The highway was fine with me.
The wind was more from the east now and I was riding right into it. A mile or two outside of Reedsburg the rain gods regaled and it began to pour. I pulled over near a dairy farm to put on my nylon rain jacket, and to put large, heavy-duty, zip-loc bags over my shoes. It was slow going, into the wind, but it was a beautiful, green day, with a low ceiling of clouds tinted steel-blue, and I was staying warm as I pedaled through the rain.
I patiently made my way east to highway 12, one of Wisconsin's main arteries. The topographic shading and curvature of the roads on the Wisconsin Bicycling map made it seem as though most of the big hills were west of here, so I was carefully picking a route that stayed to the east. The rain fell harder, so I slid the hood of my jacket over my head. Water was running down my face and off my bare legs. The tires hissed as they sliced through the thin, transparent layer of water on the dark pavement.
When I turned south towards Baraboo, the rain slowed to a light drizzle and the wind, merely a breeze, was no longer in my face. I entered West Baraboo along a commercial strip of fast food restaurants, strip malls, gas stations, and large auto dealerships. When I entered downtown Baraboo I followed signs to highway 113, the most direct route, although marked red, to Merrimac and the ferry across Lake Wisconsin.
Near the south end of town, I stopped at a convenience store/gas mart for a break. I had a fifty cent hot dog and a carton of milk. While standing under the dripping eave, a man about my age, with a British accent, asked about my trip. When I told him I'd cycled from Boulder he said he was with a friend that had driven from there just the day before. His friend, an oriental looking woman, walked out of the convenience store and he told her where I'd come from. I wasn't standing by my bicycle, so she, like many other people I'd met, assumed that I'd ridden a motorcycle from Boulder. When her friend made it clear what I'd done, she was shocked. She'd driven straight through the day before and couldn't imagine cycling that distance.
Coincidentally, they were driving to Madison later in the day, so I asked about my route along 113 and to the ferry boat (Sidhartha was surely going to be there). The man agreed that my choice was the most direct and said that it was not heavily traveled, either. I said farewell and asked them to give me a honk and a wave if they saw me later in the day. I didn't see them again.
Leaving town, I dove rapidly into the Baraboo River valley and past the Circus Museum, an outdoor amusement park and museum. The other side of the river valley has a steep 500 foot climb that left me steaming, literally. It was the only hard climb I'd encountered other than the one in Bay City a couple of days earlier. I down-shifted and patiently found my way to the top. When I got there the rain started coming down hard again. I descended a steep hill at 35 miles an hour with water spraying in my face and on my cold legs.
As I rode south, the rain subsided. I missed a turnoff that I wanted to take at Palfrey's Glen Road. I didn't see a road sign, but I had noticed a sign advertising a restaurant. That was a green route, but I missed it. I stayed on a red road. While looking for the turnoff I ran into the dead end at highway 78 and rode east into the town of Merrimac, where it had quit raining for the moment.
I turned towards the ferry landing, down a short street full of cars. I passed the cars and stopped at one of the two concession stands by the dock. The ferry was just starting to make the quarter to half a mile journey across the narrow end of Lake Wisconsin. It could hold about a dozen cars, in three rows, and traveled along cables stretched across the lake under the water. While I was waiting for the ferry to make it's round trip I bought a carton of milk and made a peanut butter and jelly sandwich. My lunch was ready when the ferry returned. One by one, the three metal ramps were lowered and the cars drove off. As I walked my bike up the ramp and towards the front of the boat the captain nodded. I ate my lunch and took a couple of pictures on this short boat ride.
Once on the other side, the rain began again. I followed highway 113 over large rolling hills, through farmland, and an occasional town -- Okee, Lodi, and Dane. It rained on and off until it quit for good near Dane. As I was shifting up and down, riding over the long, sometimes steep rollers, my chain started slipping in the upper gears. It was making a gnashing sound, too. The combination of rain and oil had washed the limestone grit into the pins and rollers of the chain. Then the rain washed off any remaining oil and left it dry. I made several adjustments to my derailleur as I rode along. I have thumb shifters with an adjustment nut on the shifter, itself. I tried turning it a quarter of a turn at a time to take the slack out of the cable. After a few turns, other gears would start to slip. I cranked it back and forth several times until I found the happy little "g" spot where all of my "g"ears worked without slipping. All this adjusting made the time pass quickly.
At Dane, about 15 miles north of Madison, the road took several 90 degree turns, first east, then south, then east, then south, and so on. This broke the rest of the ride to Madison up into short, one to three mile sections. When I turned east the first time, into Dane, a horrendous headwind blasted me, nearly bringing me to a standstill. Luckily, the wind dissipated after I turned south and then east again. The hills became shallower, too.
I entered Madison through Waunakee on Woodland Drive through a new subdivision with large wooded lots and estate size homes. I felt fabulous. The rain had stopped and the setting sun was visible through clouds on the horizon. The wind was gone, my gears were working, and I was nearly in Madison. Then I took a turn, west on county M, around Lake Mendota towards Middleton. I keep a compass in the transparent top of my handlebar bag, and it's occasions like this where it proves worthwhile. After noticing that I'd been traveling west for over two miles (I should have been going east and south), I turned around.
By the time I entered north Madison it was getting dark and I was on a major, four lane street. Since my tail light cannot be seen when my sleeping gear is in garbage bags, I did some riding on the sidewalk. I ended up on the east side of Madison, in the dark, looking for motels. Guess where I stopped to ask for help? A liquor store was all that was open in the strip mall where I stopped. The owner and his wife were very kind and helpful. They told me to ride north for a couple of miles (on Washington, I believe?) until I saw the cheaper motels.
I was looking for the right combination; convenient liquor store, grocery store, and restaurant. I rode a while, in the dark, without seeing the right combination. When I saw the Spence Motel, with a sign advertising rooms for $24.95, I stopped looking. I was wet and weary and my chain was crying out with a grinding noise from all the dry grit. I pulled up past an idling semi-trailer, it's diesel engine clattering away, and got a room. I showered, got a six pack, a burrito to go at Pedro's Mexican restaurant behind the motel, and went back to my room. Since there was a laundromat nearby, I used a drier to dry the clothes that I'd washed in the shower.
When I looked over my maps to plan the next day's route, I saw that I had serendipitously ended up right where I needed to be; at the entrance to highway 51. Following that south for a couple of miles would take me to county road BB, Cottage Grove Rd. Once in Cottage Grove I could pick up another bike trail that would lead me to the best green route, south towards Janesville. All I needed to do the next morning, before leaving, was find a bike shop. I was out of oil and my chain sounded like it was about to self destruct. Looking in the phone book I saw that there was a Schwinn shop just a couple of blocks north of the motel. They opened at 10. An excuse to sleep a little late. (Like I needed one. It was an excuse, nonetheless).
I was ready to completely relax, turn off my mind and float downstream. When I flipped on the TV, much to my surprise and enjoyment, the season premier of Star Trek: TNG came on. It was the follow up to a cliff hanger at last season's end. What a fine gift at the end of a fine Sunday.
I'd ridden 80 miles to get to Madison, 84 to my motel. It had been a full day. Trails, rain, the ferry crossing, wind, hills, disorientation, the big city of Madison, and now, as the day ended, a new episode of Star Trek. I'd averaged 12.7 miles an hour from 11:00 until about 8:00, and, to my surprise, climbed 2240 feet. That was the most I'd done in one day since leaving home. I was 1252 miles from home.


---
"It looks like you're gonna have to see me again, --- Illinois,"&nbsp D. Fogelberg
By the time I awoke and opened my door, it had already rained once. The pavement was damp and the sky was dark with low, heavy clouds. Serene, in the cool, unsettled morning, I packed my gear into rain covers and garbage bags. I rode to the bike shop, rolled my bike in the door, and removed all my gear. I wanted to buy a replacement bottle of Pace Line oil and use it, but they were all out.
Instead, the owner took my bike back into the shop, and while rapidly spinning the freewheel, sprayed it for several seconds with Schwinn heavy duty lube. Black muck dripped off onto the floor. He then took a lighter weight oil and applied it to the chain. I thanked him heartily, as the gnashing chain noise the night before had been destructive. Everything sounded fine now. I repacked my gear and rolled out the door.
I headed south on highway 51, a busy four lane thoroughfare, towards Cottage Grove Road, or county BB, as it is also called. I was only five minutes out when the rain came down in a cascade. I stood on the shoulder, traffic spraying me with wet grime, and put on my rain jacket, hood, and zip-loc boots. I looped up and around a cloverleaf and began riding east on Cottage Grove Rd.
I was nearly out of money, so seeing a bank, and not knowing what lay ahead, I stopped to get a cash advance from my good friend, Mr. Visa. No one in the bank could make sense of what I was doing, standing there, dripping, and talking about my intention to ride all day into Illinois. My presence that morning broke up an otherwise normal day and, at least, provided a distraction. I noticed that a young mother, babe in arms and child in hand, had dropped her wallet by the lobby desk. I picked it up for her.
I returned to the rain hungry, as I'd not had any breakfast. I was determined to make it to Cottage Grove before stopping. I crossed over interstate 90 and rode through an urban setting until I reached the more rural Cottage Grove. I turned off towards town to look for a diner, but not seeing one, returned to the county road and the gas station and general store on the corner. I found a veritable feast inside. There were, fresh home made rolls and sandwiches. I bought some juice, an apple, a banana, a huge banana nut muffin, an egg, cheese, and sausage sandwich on an english muffin (microwaved to a warm glow), and a carton of milk. After asking about the location of the bike trail, I sat outside and consumed this feast. I saved the apple.
I rode back towards town. Just past a deceptively silent, but full, school house, was the trail head for the Glacial Drumlin Trail. This is another flat, limestone trail that runs straight through farm, wood, and marshlands. It is 47 miles long and ends just west of Milwaukee. The rain was steady, sometimes subsiding to no more than a misty drizzle. Feeling a chill, I put sandwich size zip-loc bags over my hands to keep them dry and out of the wind.
I only needed to ride six miles on the trail, to county road W, which took me south towards interstate 94. There were puddles along the way, but the only real obstacle was frogs, little brown, wart covered frogs. I had to keep my eyes focused on the trail to avoid hitting them.
While I was on this section of trail I passed a fellow jogging with a big golden dog, Niki. I had no trouble passing them, but about a quarter of a mile down the trail, looking to the side, I saw something out of the corner of my eye. Niki was keeping pace with me. I stopped and ordered him to return to his master, who was also calling him. When I saw that he was definitely on his way back I waved to let the jogger know that there were no problems. He didn't wave back. I turned my attention and bicycle back to the trail and rode on. My hands had warmed up, so I put the baggies back in my jacket pocket.
I left the trail and headed south on the smooth, paved, county road W. I climbed several hills, passed old farms, lush green woods, and a couple of small housing developments. The scenery was soft, wet greenery. At one point, the rain came down so hard that I sought refuge under a giant old oak tree in a farmer's driveway.
Up and down, over the short steep hills, I rode. I went under the interstate and, relying heavily on the Wisconsin State Bicycling map, began following the green route that parallels interstate 94. One of my handlebar grips had been loosened by the rain and was twisting freely on the bar like a motorcycle accelerator. This did nothing to improve my speed, though.
I passed a golf course while trying to decide where the next turn off was. There are several small jogs in this route. When I stopped to read my map, another deluge began. I took cover in an old farm shed that was used to store private golf carts. I stood inside eating my apple, watching the rain, glad for the shelter. When I was ready to leave, the rain had slowed again.
At Albion there was a big truck stop at the interstate exit. I stopped there, removed my "foot bags," and, looking like a drowned rat, went inside for a break. I used the facilities, bought a candy bar and verified my route along Old Goede Rd., which paralleled the interstate. I could see the interstate traffic and, when I was close enough, hear the spray that was trailing each vehicle along the road.
A little farther on, I stopped at a McDonalds and ate some hot french fries. They were delicious. The route was tricky, so I stopped again and asked for directions at a gas station. "We don't give directions to people using wet maps," the manager said jokingly. It was true, my bicycling map was getting soggy sitting in the top of my handlebar bag. It was falling apart.
My original intention was to go south through Janesville and Beloit, then down to Rockford or perhaps Belvidere, Illinois, but it looked like the only route was through downtown Janesville on "unsuitable" roadway. I changed my mind and headed east through the small town of Milton, bypassing Janesville and Beloit. I stopped at a convenience store to ask for help and the store owner made a photocopy of a detailed, county map for me. I selected a road that is not categorized on the Wisconsin bicycling map. It's just a thin black line. For over ten miles I rode on the Milton-Shoppiers road with little to no traffic, short, steep hills, and a blustery sky. The rain was beginning to subside.
I rode south and then east to the quaint, little rural town of Avalon. I met up with Highway 140, which runs straight south to the Illinois border. It's narrow, with a fair amount of traffic, but I managed all right.
By the time I got to Clinton, the last town before the Illinois border, I was hungry, so I stopped at a gas station/mini-mart and had some orange juice and a microwave cheeseburger. An odd combination, I know, but it was the best I could do. It caused me some heartburn problems down the road. While I was there I saw newspaper articles about Herbe Velachez committing suicide over a lost love. I couldn't imagine how anyone could become so lost. If all else fails, pack up some gear and hop on a bicycle. All problems, whether worldly or day to day, come into an easy perspective. Each day unto itself, whatever it may bring.
The shop owner told me that Belvidere was another twenty to twenty-five miles away. I felt at ease. It was about 3:30 and I knew that I could make it to Belvidere in daylight. As I rode out of Clinton, the sun made a brief appearance from behind the dispersing rain clouds. At the Illinois border the hills stopped, the road condition became markedly worse, and a new species of road-kill showed up, smeared across the highway, a grey carcass, long, rat-like tail, and a ghoulish, toothy grin -- possums. I hadn't seen any until the Illinois border and now I was seeing one every few miles. The pavement was so chewed up that it looked like they had been gnawing on it.
I rode south into Belvidere without any more rain. I was definitely in Illinois; flat road in need of repair and corn fields. I stopped at State Street on the west end of town. I tried calling a few motels and decided on the Cambridge Inn. It was a little more expensive than some other motels I'd stayed in, but it was close, they'd answered their phone, and it was my last night on the road, so I saved myself the hassle of looking around and took a room there.
They didn't have a room on the ground floor. I had to carry my gear, and my bicycle, up a flight of stairs. It was also the first motel that wouldn't let me put my bike in the room. I didn't argue. It worked out okay. The room had an outside door and I locked my bike to the railing along the second floor walkway. It was a quiet, businessman's motel, so I had no worries. And the bicycle policy actually made sense. The rooms were like suites, with fine carpeting and a small living room. Very nice and clean.
I went to the lounge for a beer and met a delightful young polish woman with blond hair, a lovely smile, and an accent that eluded me until I asked her where she was from. She had only been in America about a year and was working at this motel, which her relatives own. I had an Italian meal delivered to the bar from another restaurant and sat there watching Monday night football with the few businessmen seated at the bar. Coincidentally, the Denver Broncos were playing. But most of all, I could tell, I was back in my home state, Illinois. The people, places, and things were very familiar. I could feel Illinois.
The game and the company became boring, so I left the lounge after the first quarter. Back in my room, I took my soaked shoes (baggies only work so well) and wet clothes to the drier, showered, and relaxed in my room. I hadn't noticed until now, but after riding in the rain all day, my nipples had become painfully tender and red. I applied some aloe and jojoba lotion that is very good for curing chafing overnight. The lotion caused a stinging pain that was nearly unbearable. After it subsided, I was able to rest and watch my old pal, Dave.
I'd covered 80 miles between 10:30 and 6:30, averaging 13 miles per hour. I'd climbed nearly 1600 feet, the second most since leaving home, and considerably more than any one day in Nebraska. I was 1333 miles from home -- my newer home, that is -- tomorrow would be an old homecoming. The weather forecast called for clear skies and winds out of the northwest -- blue skies and a tailwind. "Illinois, I'm your boy."


---
Homeward Bound
This was my last day on the road, the day I'd make it to my old hometown. Spirits from the past were waiting for me at every turn, and as I got closer to home, they arose over every hill and along every familiar piece of ground. I hadn't seen some of that ground for almost twenty five years. It was like riding around a corner, through time, and into the past. I was delighted to see things that had not changed. Some old places, however, were unrecognizable.
I started my day in Belvidere a little earlier than usual. The weather channel on the TV confirmed that the winds would be in my favor and that there was only a slight chance of rain. There was morning fog and the sky was overcast, but it looked stable enough. The clouds were a uniform, light grey, and rain did not seem to be in the program. I did not feel threatened.
I looked in the phone book for a bicycle shop where, still being without chain oil, I might find the brand and size bottle that I prefer. Looking for the map I found the ragged edge of a page where someone had ripped it out. This was one of my pet peeves throughout the trip. The fact that people, in their selfish arrogance, will rip out one of the most important pages in a phone book because they haven't the time or patience to memorize directions or write them down. So many pay for the arrogance of so few.
I carried my bicycle and packs down from the second floor, loaded up, and was on my way by nine ay-em. My chain sounded fine, so I didn't bother going to the bike shop. The Schwinn heavy duty lube that I put on the day before had withstood an entire day of heavy rain. I stopped at a downtown diner in Belvidere for breakfast. The pancakes tasted funky. Later that day I felt nauseous.
I left the restaurant and headed south, through town, to highway 20, which runs east and west. I'd picked my route already. Wanting to stay off the heavily traveled routes and also to see some pretty little farm towns, I decided to ride to highway 20 and then take Genoa road south-southeast to the town of Genoa. From there I'd follow highway 23 to Sycamore. I knew there was a bicycle path somewhere near Sycamore that would take me all the way to St. Charles and the Fox River. From there I could pick out the rest of my route.
For the second time on this trip I got confused and took a wrong turn. Within half a mile, though, looking at the compass in my handlebar bag, I realized that I was going west, towards Rockford -- the wrong way. I turned around and at the next intersection went to a gas station to get directions and verify my location.
"I'm looking for the road that goes to Genoa." I said, with emphasis on the first syllable (GEN-oh-wah).
"You mean gen-OH-wah? That turnoff is just visible over there to your left, take the county road." said the red jacketed cashier.
Good old Illinoise. Where the locals are too lazy, or are just not interested enough to pronounce foreign and native American words properly. In fact, they adamantly insist on the wrong pronunciations. Her correction made me smile and her directions got me back on track.
Genoa road crossed over interstate 90, the highway I had been meandering along the day before in Wisconsin. It's called the Northwest Tollway in Illinois. I began pedaling, with the wind, through the flat, familiar, Illinois farm country. The tailwind allowed me to maintain a speed near twenty miles an hour as I rode past white farm homes, red barns, and faded, old, rust-colored, buildings. Harvest season was over and the farms appeared deserted.
I quickly became aware that my nipples were still tender and sore from riding all day yesterday in the rain. They stood up, rock hard, and every time my shirt moved across them, be it from air movement or my body movements, they became even more sore and tender. I knew what the cure was, but I wasn't carrying any petroleum jelly with me. I stopped and wadded up two balls of kleenex tissue that I taped over each nipple with a band-aid. It was just a "band-aid" solution, but it helped some and allowed me to ride without the burning, rubbing pain. More important, it prevented me from causing any more damage. It was a temporary solution, though, and I had to stop from time to time to adjust the bandages. Having band aids strapped over my nipples struck me as silly.