One sunny, summer day in Austria, in the middle of a solo bicycle journey from Greece to Ireland, I found myself thinking about the form of prayer I'd discovered during the previous weeks of traveling and camping alone. My ever-turning wheels spun alongside the fading footsteps that mark the rise of western culture — from the mythological times of ancient Crete and Greece, to the classic cultures of Italy and the Venetians, through the rise of Christendom, the Renaissance, and finally modern European history. Within the first few days of my journey, while on the island of Crete, I'd learned to play Amazing Grace on my penny whistle; something I now did at least once a day — and with feeling. I noticed that this act could, rather unpredictably, produce changes in the weather — perhaps make the sun shine — usually for but a moment, or not until later in the day. But I understood.
As the weeks and miles unfolded I began talking to the six directions, the winged and four-legged creatures, the water, the sky, the rocks, and all living things — something I learned from the indigenous people of my homeland in books and even now in my dreams. I prayed out loud to these spirits as I rode across the land and looked to the sky. Sometimes I stopped to play a dedication on my penny whistle. Many of these prayers produced results (e.g., clouds parting, no more rain).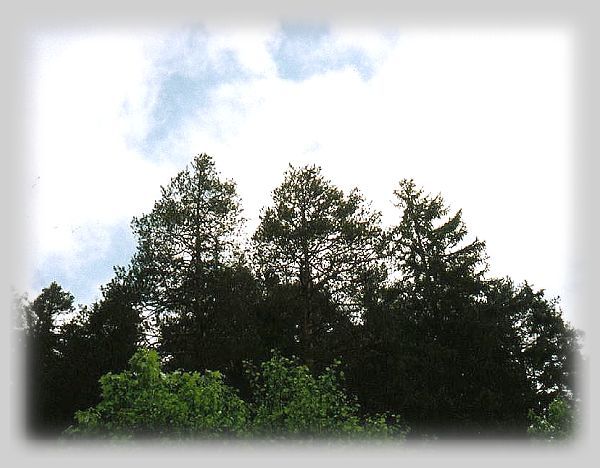 Prayer works best when it is not for anything in particular. It merely opens a dialogue. But that does not matter, not really, as a message from the Gods is usually incomprehensible or passed over and not even noticed — not right away at least. Prayer or ritual opens a channel of synchronicity between you (your ego) and the eternal life giving power (libido) that is within us all. What springs forth is truth, truth that is sought without knowing or understanding, the same truth whose very nature is to be incomprehensible.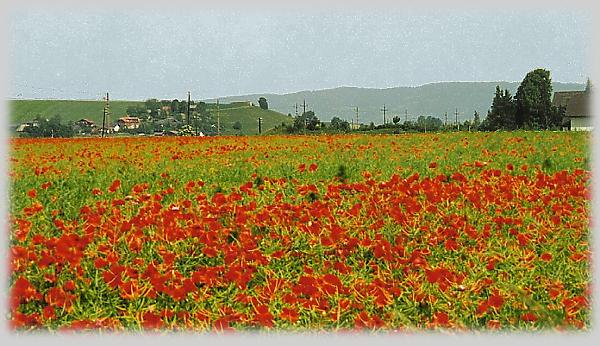 On this summer Sunday, after months of travel, I was riding my bicycle through lush, green, central Austrian farm country. The narrow unmarked country roads carried little traffic and provided enough space and quiet for me to stop whenever I wished to play my penny whistle or take pictures of poppy fields. As I was riding along, letting my mind wander across open fields, the steady spinning of my legs and feet, the rotating wheels and the rhythm of my own breath all fused together into a meditative gestalt — with me at the center.
I began to think a lot about synchronicity and how it appeared to Carl Jung as a mathematically supportable concept. I'd been reading "The Portable Jung" during my travels. Very simply, what Jung was trying to say was that when numbers bare out the fact that a thing has happened more often one way than another, more than coincidentally, therein lies evidence of synchronicity — meaningful coincidence — the connection between content perceived by the inner self and content represented by outer events. It amused me that Carl was using his logical German thought process to describe that which refuses description. Yet he was treading very near the truth with this empirical examination. He shone a very bright light on the nature of existence (Self and it's relationship to everything else).
During the last few weeks leading me here, to Austria, I had been communicating with the ancient ones regularly. I noticed a channel of synchronicity would often open up. Things would just start to happen — to come my way. I learned not to wish and pray for anything in particular, but to know how to recognize an answer, an opening, a crack in the now that I was to go through next. These pathways seemed to abound.
<!C- HR WIDTH="100%">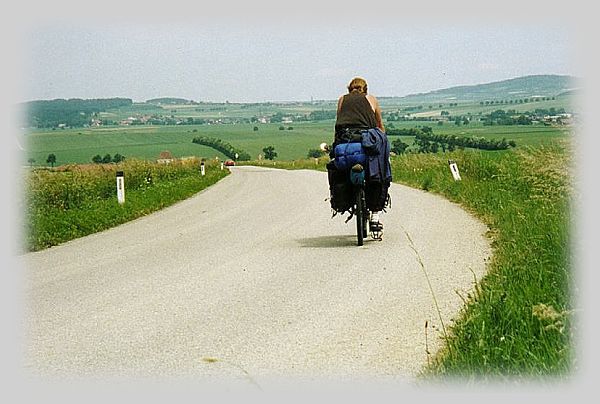 <!C- HR WIDTH="100%">
I can't really describe how complete and whole this feeling that I get on my bicycle wanderings is, but I was there now on this Sunday in the middle of Austria. When I gazed down toward my bike computer the little pebbles in the pavement were going by too fast to be seen individually. I also noticed that my current elevation above sea level was exactly the same as the total elevation I'd accumulated while riding that day — 600 meters and 600 meters. I thought it odd that after several hours of riding through hilly, rolling countryside these two numbers would track in perfect synchronicity, perhaps early in the day, but not midway through a long day's ride. It was almost too much "coincidence," my thoughts about Jung's empirical look at the concept of synchronicity, seeing these random numbers track together, and the synchronicity of this external numerical event with my own inner thoughts. The data would have pleased Dr. Jung.
<!C- !-- HR WIDTH="100%">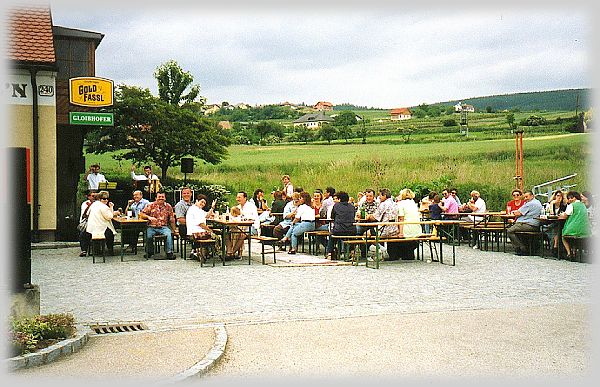 <!C- HR WIDTH="100%">
Later that same afternoon I came upon and became the celebrity guest at a small outdoor country wine fest — Austrian style. I befriended an entire multi-generation family, received a round of applause for my Olympian bicycling efforts and the two-man band played a fun song about Arnold Schwarzeneger, dedicated to me. I got quite drunk on Austrian wine (Gruner Veltliner - vitamin GV, as my hosts called it) and I was not allowed to pay for any of it.
The world cracked open and said, "venture forth for you will be rewarded."
When I finally bid auf wiedersehen, I pedaled fifteen more miles to my favorite camping place on the Danube, Rossatzbach (under a castle where Richard the Lionheart was captured and detained when returning from the Crusades). On that fifteen mile ride, while smiling drunk, I managed to ride no handed for the first time with all four panniers on my bike, something I'd been unable to do on this long journey . . . until now, that is. [But that was not synchronicity, just relaxed confidence.]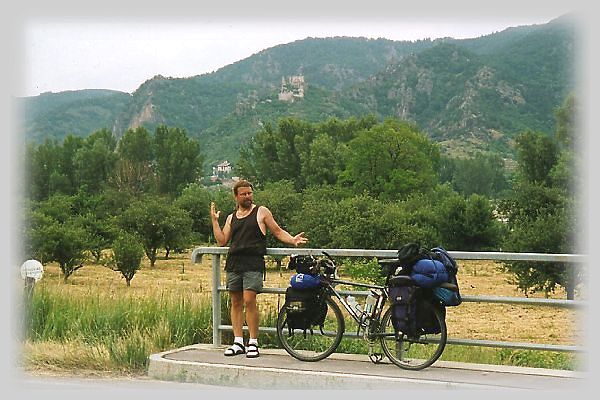 "The world is empty only unto those who do not know how to direct their libido towards things and people, and to render them alive and beautiful." -- Carl Jung