Cycling through Yellowstone and the Tetons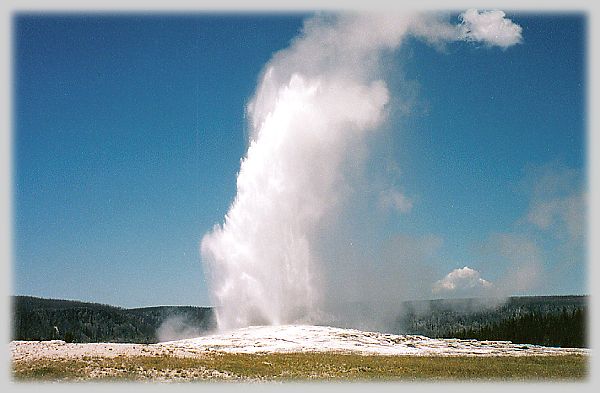 Obviously, one of the best ways to see this area is from a bicycle. The silence, solitude, and awareness can not be had from a motorized vehicle. On a recent cycling tour (1994) I entered the park from West Yellowstone, in Montana, and camped two nights in Yellowstone - at Madison Junction and Grant Village. The third night I spent in a lofty, secluded campsite east of the Teton range.

Yellowstone is known to cross-country cyclists for it's narrow, decaying, busy roads. Yes, the road is in deplorable shape, and the traffic is heavy, with many large campers driven by novice drivers. Yet, I, did not feel threatened on my ride through the park. In fact I consider it to be one of the most beautiful, and by far, most interesting stretches of road I encountered on my journey from Seattle to Boulder. Cycling in Yellowstone can be very pleasant with a little care and planning.

The road from West Yellowstone to the Madison Junction campground is new and has smooth, wide (safe) shoulders. Almost all of the trees along this route were denuded by the fires of 1992(?). As the ranger at the entrance gate had told me, I found Riverside Dr. four miles inside the park. It is a short, but blissful alternate to the main road. It adds no extra mileage and it would be a shame to miss it. It is not on the maps.

One very nice thing about Yellowstone National Park is the guaranteed campsites for hikers and cyclists. At Madison Junction, there is a hiker/biker area near the ranger's cabin where cyclists and hikers can set up camp. There are benches and firepits to share and always enough room for one more. The ranger at Madison Junction even let me chill down a few beers in his fridge. There are restrooms, but no showers at Madison Junction. However, the Madison river, formed by the junction of the Firehole River and the Gibbon River, runs by the camp. It has a swift, but manageable current and and streams of warm water swirling through it that are heated by Yellowstone's famous geothermal energy. You can't use soap, but some time spent in the river will leave you pleasantly refreshed. And you'll get to meet some of your fellow campers.

The road from Madison Junction to Old Faithful is old and broken up in some places. There is virtually no shoulder. Remember to take the Firehole Canyon loop, as it is another pleasant alternate to the main road. Although the road is in such bad shape, I never felt too threatened. Nearly every driver was courteous and patient, slowing behind me until it was safe to pass. Recommendation: leave Madison Junction campground very early (by 7 or 8 AM) to avoid most of the traffic and sightseers at the lower and middle geyser basins. The scenery along this road is surreal.

A stop at Old Faithful is worthwhile. Wading through the tourists, you can find a decent lunch and stay long enough to see the Old Faithful geyser send it's hot, steamy spray surging hundreds of feet into the air.

The road from Old Faithful to Grant Village is much like the morning's route, but not as decrepit, and, again, the motorists were, for the most part, patient and courteous. Before descending towards beautiful, blue Lake Yellowstone you cross the continental divide three times. The highest point reached is actually on a hill between two of these crossings.

Grant Village is much like Madison Junction. There are several campsites set aside for and to be shared by cyclists and hikers. There are no showers in the campground, but just a stones-throw from the entrance is a convenient, commercially run laundry and shower facility. After washing clothes and showering (ahhhh) my assigned camp partner and I rode into the village and had a steak dinner in a cafeteria by the lakeside. It was a little too expensive, but much easier than cooking at camp, and a delicious, well deserved luxury.

The next day I left Yellowstone, heading south towards Grand Teton National Park on the John Rockefeller, Jr. Memorial Parkway. The road was the same - narrow and busy. I've learned to ride these roads assuredly by being courteous and allowing traffic plenty of room to pass. For much of the ride, though, there is no traffic, and the scenery along the Lewis River is beautiful with dramatic canyon overlooks. Looming ahead are the Grand Tetons.

I entered Colter Bay, where I was thinking of camping that night, and found it to be much like Grant Village, with shops and a large RV campground. The hiker/biker sites at Colter Bay are secluded and removed from the rest of the campsites. But, straddling my bike, waiting in a line of RV's to register for a campsite, I realized that I'd had enough of the comfort, noise, and crowds of a large campground and decided to head for a hiker/biker, only campsite, just past Moran Junction - east of the Tetons and Jackson.

The first night I spent alone in bear country, three nights earlier, was in the Beaver Creek campground near Earthquake Lake and Hebgen Dam, in Montana - west of Yellowstone. There were no bear boxes, just bear-proof trash cans, and I was alone in a dark and secluded site. There was no one else within a hundred yards of me and, in the darkness of a new moon, I got jumpy. I called it a night early and cowered under my sleeping bag in my tent. Spending the next night at Madison Junction, with lots of company, was a welcome relief. There were bear boxes and a virtual city of campers parked nearby -- somewhat noisy, but reassuring. At Grant Village there was much of the same. Plenty of company and bear boxes, so that all food and odorous items could be kept locked away from where I was sleeping in my nylon tent. On this last night, I would be alone again and in a very secluded spot.

Leaving Colter Bay I rode to the junction with highway 287 and headed east towards Moran Junction and Togwotee Pass. Four or five miles into the climb, just past the 12 mile marker, 13 miles east of Moran Junction, was the entrance to Blackrock campground. Blackrock was set up by the Adventure Cycling Association and the National Forest Service. It is a cyclist-only campground overlooking the Teton range. There are benches, firepits, and bear boxes. Firewood is abundant and lying dead on the ground. There's even a two-seater outhouse. There is NO water available at the site, but I stopped at a motel about 5 miles before the campground for food, water, and ice. There's also a KOA campground further back toward Moran Junction.