Above the Athinios Port looking towards Fira, the capital (see map), which you can see at the crest of the hill, to the right of center. The ship has just left the port of Fira, at the bottom of the long, steep cliff directly below the city. Most people now arrive at the Athinios port, directly below this low, rock wall, at the bottom of a long series of switchbacks.

I spent several days at a campground in Fira, paying 1,000 drachma per night (four dollars). I took the above picture while heading south and across the island to Perissa to get away from the crowds in Fira. It was the Holy Week (Easter), and Greece was also on its way to winning the European Basketball semi-finals. It made for a very festive week. I thoroughly enjoyed my time in quiet little Perissa. The campground was closed, so I waited until after dark and vaulted over the small rock wall. The campground was situated half way between an outdoor disco showing the basketball game on a huge TV, and the Orthodox church broadcasting the chanting, singing, and prayers from inside, over a loudspeaker in the town square. It was an odd mix, to say the least.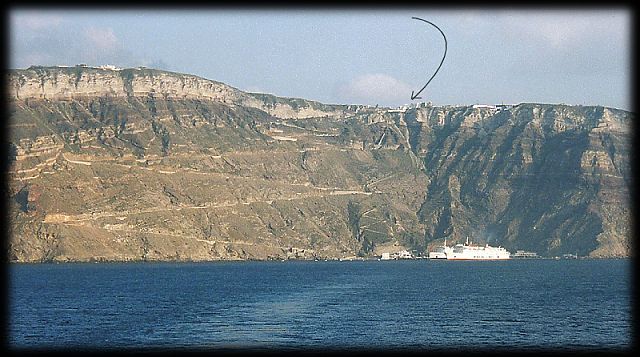 And there's where I took that picture from, at the top of those long switchbacks that climb up from the Athinios Port (map). I took this picture from the deck of the Agapitos Ferry boat as I was leaving Santorini, bound for Paros.
A week earlier, I had arrived at this port at a little after midnight, with my friend Bernd. We camped outside a small church on the rocky coast, right at the base of the long climb. The next morning we rode up and around the island to the main city, Fira.