I awoke in North Platte, Nebraska to a steady rain, so I took my time leaving. I had a small snack, packed my gear, and became rain ready. This was the first time I'd had to put on my pannier covers and put my camping gear into garbage bags. As I rode off into the light rain, I heard unusual noises coming from my rear hub. When I stopped to check it out I found that I'd not fastened one of my bungee cords properly and it had fallen into the rear hub where it ripped the wires off my cyclocomputer sensor.
I carefully reattatched my camping gear and removed the twisted bungee cord. I continued on to the Chamber of Commerce to get a Nebraska highway map, and to ask about the location of bicycle stores. They had the map I wanted and the bicycle shop was just around the corner. Unfortunately, the bike shop didn't carry the same computer and didn't have the means to repair the sensor.
I'd tried this once before at home, soldering a sensor back on, but with no luck. Still, it gave me the idea to seek out an electronics repair shop. The only appliance repair shop in town was, conveniently, just down the street from the bicycle shop. I went inside and explained my situation to the repairman, telling him that two quick solder connections would solve my problem. He told me to bring the wiring into the shop. That would require my removing the sensor wiring from the bicycle and reinstalling it. When I asked him if I could bring the whole bike in (careful to say bicycle), he grunted that it was beginning to sound too complicated. I reassured him, brought the bike in, removed my gear, and in less that a minute he had soldered and taped the connections.
I repacked my gear, and since the sky was now clearing, I put my rain gear away. When I asked what I owed for the repair, the technician waved me off, said good luck, and continued with his work. That wasn't so bad a mishap after all.
Getting into and out of town, from highway 30, involved climbing up and over a railroad viaduct with four lanes of traffic and no shoulder. For the third time, I crossed it to head back to the highway. Just over the viaduct, at the intersection with highway 83, was a small cafe. I decided to stop for a working man's breakfast -- eggs, pancakes and hash browns with milk, coffee, and juice. This was a working class cafe with farmers, railroad workers, and laborers eager to give me advice.
When I mentioned I had been thinking of going north I was asked if I was going to Valentine. Other people had asked me this, and I as I looked at my map, I saw what they meant. Valentine is the first real town north of North Platte and it's a good 140 miles north. They said there were little towns on the way, but they weren't like the towns along the river. You don't pass through them. They're sometimes five miles off the road.
That's the kind of journey I'd like to take someday, but I think I'll wait until I have a companion to travel with. I was convinced that I was doing what was best for me. I kept telling myself I was right.
I was told that highway 30 was south, back over the railroad viaduct I had crossed before. But as I was about to leave the cafe, a husky Viet Nam vet came over and told me of a shortcut that avoided the viaduct. I thanked him and was on my way.
It was already 12:30. I'd wanted to ride a hundred miles that day, to Kearney, to appease the part of me that thought I was being too soft. It was too late for that plan to be realistic.
I still had misgivings about my change in plans. I felt defeated. I got over it soon, though. After all, I was retracing the path of the pioneers. The Oregon Trail had been pioneered 150 years ago and there were signs along the way pointing out historical locations. I was retracing the bold footsteps of American pioneers.
A few miles outside of North Platte I crossed the North Platte River as it turned south to join the South Platte. This was the only time that I actually saw the Platte River. It's a wide, shallow river that looks more like a creek in some places, yet it was a major route for early Americans.
There was not much wind that day, if anything, there was a slight tailwind. A few miles before the town of Maxwell, which is eleven miles from North Platte, I started noticing an excessive amount of grasshoppers on the road, and they were increasing in numbers. There were a lot of dragonflies, too. Ping, . . . ping. There were so many in the shoulder of the road that I had to ride out into the roadway. There were none on the other side of the road. They were all on my side, the south side.
They started getting thicker. If I rode in the shoulder I couldn't avoid them. Crunch, crruuunch, ping, ping, crunch, crunch. They were starting to lie in clusters, much like star matter in the universe. There were times that I had to swerve across the roadway, over the middle stripe, and into the oncoming lane to avoid hoppers.
It's not too bad running over grasshoppers. They don't make much of a mess. I just didn't want to kill things with my bike. For the whole trip I tried not to kill anything on the road. I'd swerved around lots of frogs, big fuzzy caterpillars, grasshoppers, beetles, and even a few snakes that I stopped for so I could scare them back into the grass. It was a spiritual thing -- karma, if you will. I was presenting good will up front in hopes that the earth would notice and keep me from harm in return.
The grasshoppers at this point were so thick and clustered that I had to ride in the middle of the road where their numbers were smaller and I had a better chance of swerving around them. When I rode nearer the shoulder and startled them, they jumped all over -- even on me.
After a while, I became curious about their clustering. I thought they might be mating. I stopped to investigate. They weren't mating. They were clustering around other grasshoppers that had been crushed on the road and, in a cannibalistic act, eating their dead comrades. When I looked close I could see that, not only were they eating the dead, but they were taking bites out of each other. A sort of feeding frenzy. These clusters of hoppers were cannibalistic feeding frenzies.
It made me a little ill and even horrified me. For a while, I regretted having investigated so closely. I was going to have horrible nightmares about giant grasshoppers, their green reflex-driven mandibles scissoring away as they came at me. Uhuhuhuhuhuhuhuhu! It would be a sleepless night.
Thankfully the hoppers soon thinned out. As quickly as they had accumulated on the road they disappeared. The dense mass of them lasted just five miles or so, then they receded into the background and I could ride normally.
Still shuddering, thinking about the frenzied hoppers, I noticed that I was overtaking a very slow moving freight train on my left, the north side of the tracks. It was a long train carrying boxcars and flatcars. After passing many of the cars, about half way through, I noticed the train's speed was increasing and soon I was struggling to keep up.
What motivation. I was on flat ground and pushing myself to ride well over 20 mph to try to keep up. As it pulled away from me, I started to memorize the numbers on the sides of the cars next to me. They weren't in order, so I tried to memorize a few, like 1027 (almost 1k in computer lingo), 333, 609, and others I've forgotten.
As I entered Maxwell I crossed a viaduct over the train tracks, which left them on my south side. The train was slowing and I was, once again, overtaking it. It stopped, and as I was leaving Maxwell, I passed the engine and exchanged a wave with the engineer.
Nine miles later I came to the town of Brady, population 331, almost like one of the cars I'd passed. I stopped at the small pantry there for a snack -- an apple and a can of Cherry Coke (no Gatorade this time). As I sat outside snacking, a young woman across the street came out of her house, hopped on her bicycle, and rode over. She came right up to me and asked if it was all right if we talked for a while.
All right? I was starved for company. She was a freckled young woman with pale skin, long dishwater hair, glasses, and a young looking 19 or 20 years old. She introduced herself, "Don."
A student at the college in North Platte, she was studying to be an elementary school teacher. She'd lived near Colorado Springs for a short time and was quite happy to be back living in this small town. She said she saw me on the bicycle, and came over to talk. She was outgoing. I liked her ways.
As we talked, a freight train's whistle shrieked loudly and it rumbled through town. I had been passed.
She was admiring my bike, with the index shifting, bar ends and eighteen speeds, so I took a look at hers. It was an old white ten speed with no cable going to the rear derailleur. A real piece of junk to me, but more than satisfactory for the short rides she described taking from her home. She liked to ride over the hills, north of town, as a work out. With that bike, I'm sure it was a workout, although she never covered any real distance.
Seeing that her chain and gears were dry and rusting, I got out my bottle of chain lube and oiled her chain. Then I adjusted her brakes. If I'd had a spare cable, I'd have put that on her rear derailleur, too. She asked me if I thought she should buy a new bike. I told her that a good, honest mechanic would be able to make her current bike operable for under $25 and she should try that.
When I was ready to leave she asked if she could ride along for a while. "Of course," I said. We rode and talked. She told me how the state had cut her tuition money, so she was writing to the governor to get it reinstated. I encouraged her in her studies, her plan to teach school in this rural area, and in her battle to continue receiving state tuition funds. She said she admired me and thought I was an interesting person. After a couple of miles she turned back.
I'd been having dull knee pain, at the least, since my second day. It's nothing to worry about. I've always had it. It moves from knee to knee, and from the bottom of my kneecap to the tendons on the side. It bothers me most in the morning and near the end of the day. During the middle of the day my endorphins make it almost unnoticeable.
After Don turned back, I noticed that I was feeling no knee pain, and was greatly invigorated. I cranked up the pace and my mental attitude soared. I felt invincible. Like I could finish crossing Nebraska today. There was something about that interaction with a member of the opposite sex that had charged me up. It wasn't blatant sexuality, that wasn't in my mind as I was visiting with Don, but it felt hormonal. Thank goodness for those hormones.
Just before getting to Gothenburg, the next good sized town, I began to catch up to a freight train again. I started to overtake the train. There went car 609, 333, and then 1027. I had caught up to my original position on the same train. I barely managed to catch the engine when the engineer gave a loud blast on his horn and waved as he pulled away. That was the last time I saw that train.
In Gothenburg, I stopped at the Pony Express Station in the town park. It's several blocks off the highway. They moved a Pony Express station, a small cabin, from it's original location a few miles away, and set it up as a tourist shop in the park. There was a slender, young, blond woman behind the counter and I had a fine conversation with her. She had just graduated from school and was going to start her teaching career that fall.
In order to explain the sort of souvenir I was looking for, I told her about the tavern I frequent, and play in a softball league for. My beer drinking, pool playing friends and I, in an altered mood, occasionally refer to our cue sticks as ponies. We even make pony noises and do a childish imitation of riding them -- when they are doing well for us, that is. I told her I wanted to send something back that had a picture of a Pony Express Rider and his steed. That's actually the Pony Express logo and she found me a post card with that on it.
She played on a softball league in Gothenburg and enjoyed the post game parties at her local tavern. I asked her about Swedish settlements in Nebraska, as this was called Gothenburg, and I'd seen evidence of Scandinavian influence like Ole's tavern in Paxton. She said it was the Swedes, then the Danes, and finally the Germans that had settled much of the Platte River Valley. We both tried our best to pronounce Gothenburg in real Swedish. She'd learned it from Swedish tourists and was probably closer than me. It's something like "Yurtabury."
We also talked about travel, and I did my best to convince her to take a summer off and travel in Europe. She was leery about doing it herself, so I told her what it was like. Europe is a fun and easy place to visit, especially for younger folks, backpacking in the summer time. I hope I gave her some inspiration and dispelled some fears. I'm a real believer in the value of travel.
I stopped at a grocery store called Peterson's, since that's my late Mother's maiden name. I bought some bread and took a picture of the hand painted mural on the side that said "Peterson's." My mother died ten years ago and is still often on my mind.
Again, for the next several miles, I was reinvigorated and feeling no knee pain. Hormones, I guess. I rode 24 more miles through the little towns of Willow Springs, Cozad, and Darr, before arriving in Lexington. After turning down a cheap, tiny, and uncomfortable motel room, I ended up at the Econo Lodge. It was "econo" to the sum of $32.65. I paid for it with VISA.
I got something to eat and made it back in my room in time for one of my favorite TV shows -- Thursday night -- The Simpson's. The one advantage to the Econo-Lodge was the pool and hot tub enclosed in a giant Quonset hut across the parking lot. I went there around 10:00, after icing my knees. There was no one else there. The hot tub felt fantastic. Back in my motel room, with more ice on my knees, my buddy Dave again made me laugh right out loud.
It was a shorter day; 63 miles, in 5 1/2 hours, with an average speed of 15.5 mph. I'd hit 26.5 on the flats racing the freight train. My altimeter showed a total climb of 70 feet (probably all viaducts) and I was now at 2040 feet elevation. I was 368 miles from home.


---
The Platte River Valley -- Part V
The Econo-Lodge provided a free continental breakfast. That and the hot tub made the extra cost seem worth it. I had juice, a banana, and a cinnamon roll. I snagged all the single serve jam packs I could. They are the best, and only way I know of, to carry jam.
Once on the highway I had a tailwind, so I kept a high cadence in a big gear and rode the first 19 miles in one hour. It felt great to keep my pace near 20 mph for a solid hour. I took a short break in Elm Creek before blazing on to Kearney.
It was another day in Nebraska. They were starting to melt together. One day was much the same as the previous. The scenery varied from corn on the right, and alfalfa on the left, to corn on the left, and alfalfa on the right. The five days I spent crossing Nebraska became like one very long day.
From this point on, all the way to Grand Island, highway 30 was in a deteriorated state. I had to focus on the small scale of things trying to avoid deep cuts and scars in the road. There was a shoulder, but it was older than the roadway and had one of those tar filled cracks every ten to twenty feet. Ba-dum . . . ba-dum . . . ba-dum, over and over again. It became so irritating that I rode on the far right edge of the roadway, next to the shoulder. Sometimes it was even too bumpy there. There were open holes and many patched holes where the patching material had sunk in an inch or more.
Shortly before getting to Kearney, another 15 miles, I saw a sign by a small housing development that said 1733. At first, I wondered what settlement could have been here in 1733. But there were no settlements this far west that early. I finally discovered that the sign is located exactly 1733 miles from New York City and from San Francisco. It's the half way point across America. The middle.
Coming into Kearney, I could see tornado damage. There were uprooted trees, whole stands of trees lying on their sides, and demolished homes along an east-west line west of the Kearney city limits. It looked as though some weeks had passed since the damage.
As I entered Kearney I ran into major road construction, and bone-jarring ruts. The road work continued into the center of town. I was taking quite a beating. When the construction finally ended I started looking for a bakery with some sandwich bread. I got to the east edge of town without seeing anywhere I wanted to stop.
Looking to my left, across the road, in a small shopping center, I saw a Bridgestone sign [the brand of my bike] in a bike shop window and decided I would stop there to check the air pressure in my tires. I hadn't checked it since I left Boulder five days ago. In one window of the shop there was a big piece of plywood, painted white, and in big, black letters were the words, Guns - Bikes.
When I entered the shop I saw bicycles on the left, and guns, ammo, and bows on the right. I asked to borrow the floor pump so I could check my air pressure. Both tires were slightly over inflated. I assume it was because I had inflated them at an elevation nearly a mile higher.
My rear wheel had come out of true and was wobbly enough to rub the brake pads. I unpacked my gear, put the bike on one of those crank arm racks that lifts the rear wheel, and the owner helped me true it. There were a few loose spokes from all that jarring around. The front wheel was fine. As I was finishing with the rear wheel the owner took care of some customers and then left to run an errand. The clerk he left behind knew nothing about bikes, but through our conversation I found out that the owner's name was Chuck.
After repacking my gear I noticed that the rear end of the bike felt mushy, like it had loose shocks. Sure enough, my rear tire was nearly flat. Once again, I removed my gear, then took off the rear wheel, removed the tire, and extracted a tiny, flat, metal spike. I patched the tube and used my frame pump to refill the tire, as the owner had sold his only floor pump to the customers who had come in while I was truing my wheel.
What a set of coincidences. I'd probably picked up that little spike in the construction zone. It was nice to be able to change the tire indoors rather than out in the hot sun. Just as I was ready to go, the owner returned. I thanked him, told him about the flat, and told him my name was Chuck, too. Chuck's Bikes and Guns in Kearney, Nebraska. Something about that whole visit seemed preordained.
Still hungry, I decided to leave Kearney and look for lunch in the next town. Thirteen miles later I came to Gibbon, a small, farm town along the railroad, with grain silos and a water tower. I turned right, over the tracks and three blocks into town. There was a small general store with a park across the street. I bought what was, for me, a relative feast -- rolls for peanut butter, fruit, a small piece of cheesecake, milk, fruit juice, and a bag of honey roasted peanuts and cashews.
I walked my bike across the street into the center of the park. There were mature trees and lush green grass. I sat at a picnic table and feasted. While I ate, I noticed some grade school girls playing in the little house on the gravel playground. They were wearing cute, little dresses and sharing little girl secrets about God knows what. They poked their heads over the wall of their playhouse together and said, "hi."
"Hello girls."
After a satiating and restful lunch stop, I got back to the hard and scarred road. I stopped a couple of times along the way to cool off and let my body recover from the beating I was taking. But mostly, I focused on the road directly in front of me, and put myself to the task of getting to Grand Island, 30 miles ahead.
In addition to the rotten road conditions, it was also the day that the Nebraska State Fair opened in Lincoln and there was an inordinate amount of traffic. It was like the mini-rush hour I had experienced outside of North Platte. It seemed like there were always cars within sight behind me.
I rode a lot with my head down, in dogged earnest, wearing my road face. Whenever I looked up, someone would wave, or give a thumbs-up sign. I had to concentrate on keeping my head up so I could see these gestures of good will and encouragement and wave back. At one point I was being waved to by every fourth or fifth car. This encouragement was good for my spirit, as the road that day was being a cruel master.
Not far into Grand Island, a city of 38,000 people, I saw a small motel called the Four-Plex. There were ten rooms or so. I leaned my bicycle against a tree and followed a pretty, young mother and her baby daughter into the front office. They continued on into their private laundry room and when the woman came back into the doorway I asked, "how much for a single?"
She laughed and said, "Oh . . . about $500." I laughed, not quite sure what she meant by that. Her mother, the baby's grandmother, gave her a disgruntled look as she came to the front desk. "A single room, one person?" "Yes," I responded.
"We have a small single room you can have for twenty dollars. The room is fine, but the shower stall is unfinished. I hope you don't mind."
The daughter let me know her joke meant she would cost $500 for the night. Some a sense of humor. Don't toy with me like that. I wonder if she's married. Oh, drop it.
I took the room. This quaint little room was the nicest I had on the whole trip. I could barely fit my bicycle and gear in the room with the bed, TV, and air conditioner, but it was very clean and comfortable. There were three grocery stores within walking distance and downtown Grand Island was just ten blocks away, down a quiet side street.
Since it was Friday, I talked myself into partying. I unpacked and rode into town looking for the local watering hole. After some searching, I found it. The town seemed dead, but there was a lot of life inside the tavern, and dinner. On Friday's, one of the owners brings in a kettle full of barbecued beef and they sell sloppy joes and chips for fifty cents. I had three helpings and several beers.
I rode back to my room at 10:30 to watch the David Letterman show and then returned to the tavern, where I stayed until closing time -- one o'clock. Bar owners in Nebraska can get a license to sell package liquor. So at last call, if you haven't had enough to drink, or you can't resist the craving for more of America's most loved, legal drug, you can always buy a twelve pack for the ride home. I rode home carefully, glad that I was on a quiet side street.
I'd ridden 78 miles that day from 11:00 to 6:00 with an average speed of 15.8 mph. I'd climbed 70 feet - a flat day - and was now 451 miles from home.


---
The Platte River Valley -- Part VI
Ho boy. Did I feel bad when I woke up in Grand Island. It was about 10 A.M. and I had a miserable hangover from partying at the local tavern the night before. I had all the classic symptoms: nausea, headache, and a strong aversion to sunlight. I moved slowly and eventually dragged myself out the door.
Stopping at one of the nearby grocery stores to look for breakfast, I noticed fresh grilled hamburgers and pop for sale outside. $1 for a hamburger and a cup of pop. Cheap fuel. It was almost noon, so I switched gastric gears and had lunch. Nebraskan's are proud of their beef, and with good reason. The burger was extremely delicious, and thankfully, it sat well with me. And the carbonation from the soda catalyzed a gaseous discharge, creating a soothing abdominal equilibrium.
My rear wheel was in need of truing again and, before leaving the motel, I had tried my best, but couldn't get it right. I stopped at the bicycle shop in downtown Grand Island and the owner trued the wheel for me in seconds. I'm going to have to learn how to do that. He did it while I lifted the rear wheel, with all my gear attached, off the ground.
At the east edge of town, I stopped in a convenience store for fruit juice and milk. I'm a milk-a-holic. I drink it every day as it settles me both mentally and physically. While I was there I checked my bank balance at the pocket-teller. After counting my pocket money, I was careless and didn't put it all the way to the bottom of my shorts pocket.
I had noticed the flags blowing in town, but it wasn't until I was out of town that I accepted the fact there was a strong and direct headwind. It was a laborious chore keeping my speed at eleven miles an hour, sometimes falling under ten. My left knee was giving me pain with each pedal stroke, too. Ouch . . . ouch . . . ouch . . . ouch . . . Eventually the pain subsided, but the wind was making life miserable. I struggled on to the first town -- Chapman.
I was playing a game, a silly little game, with town names, thinking of people and things with the same name. This was Tracy Chapman. During the previous days I'd ridden through "Barbara" Hershey, "Tom" Sutherland, Maxwell "Silver" (which inspired an afternoon of singing mostly Sgt. Pepper songs to myself -- "When I'm 64, . . . woooh"), "Peggy" Overton (a childhood friend I hadn't thought of in over 30 years), Odessa (sung like the Bee Gees), Gibbon(s), "Red" Shelton (d'oh!), and "Alan" Alda. There were more to come.
I stopped in Chapman to get out of the wind for a while. I'd reached the first town, just eleven miles outside of Grand Island, in one hour (ugh!). Before going into the store I reached into my pocket and discovered I'd lost my money, about $17, between the convenience store in Grand Island and here. I kept the bulk of my money, about four hundred dollars, in a little fanny pack that I always wore, like a money belt. I wasn't about to turn back and retrace my route in this wind. This was becoming a bummer of a day. I pushed on. My next goal was Central City; ten more miles.
Between Chapman and Central City I noticed I was singing John Lennon songs to myself. Whenever I find myself absent mindedly singing some song, I can always figure out what inspired it. When I was singing "Maxwell Silver" and other assorted Beatles songs two days earlier, it was because I had just ridden through the town of Maxwell. When I finally realized what inspired this session of John Lennon songs, I felt bad. If you know John Lennon's story, you know what Chapman means.
Still, the Lennon songs were a good distraction and helped me to get to Central City. So did the stands of trees on my side of the road. Whenever I rode beside a large stand of trees, they would provide a partial wind block and disperse the strong breeze.
"Central City, The Center Of It All." That's what the sign read as I approached the grain silos along the railroad tracks. I didn't check, but Central City appears to be located at the geographic center of the continental United States. I stopped for a Dairy Queen Blizzard. Besides being windy, it was hot.
Wherever I stopped there was a noticeable absence of people. There was a Nebraska game and any "real" Nebraskan was sitting inside watching college football. Many homes had red signs and statues set out in the front yard. Go Big Red!
I got lunch fixings before I left town and asked some peope where I might find a comfortable place to sit and eat. Two guys standing outside the store said there was a pond a mile or so outside of town and a rest stop a couple of miles beyond that. I left town holding a grocery bag in my left hand, as I expected to be stopping soon.
After two or three miles, without seeing a pond, I stopped and packed my groceries. I never even saw the pond. The rest stop was six miles down the road. The Mormons had put picnic benches and grills in a shaded little grassy spot along the route of their great exodus to Utah. It was a comfortable stop and I had a peanut butter and jelly sandwich, chocolate milk, some nuts, and an apple.
I struggled on, noticing every mile as it took it's toll on me. I kept up my game as I rode through "Last Train To" Clarks "ville," "Richie" Havens, Silver Creek (more Beatles songs), and "Lincoln" Duncan. The last was my favorite song to sing, as I know it on my guitar and have performed it in public.
Duncan was a hard won goal, and the last town before my destination; Columbus. I pulled off in the town park and rested in the grass under the shade of an old oak tree. Some kids must have been playing around with firecrackers the night before because I found a bunch of "black cats" that had been set off in a bundle. There were several that had not exploded and I packed them into my handle bar bag. I still have them. I think I'll wait for New Year's Eve to light them. They will make a nice Auld Lang Syne.
Just past Duncan, I hit the 500 mile mark and, while riding no handed, took a ceremonial picture of my odometer, including the handle bars and handle bar bag. I took a couple of them just to be sure. It was tricky riding no-handed into a headwind and trying to frame the picture properly.
About three miles outside of Columbus, as the day waned, the wind began to subside and I was able to get my speed up to fourteen miles an hour. I crossed over the Loup River and began looking for a motel. I noticed several "No Vacancy" signs and began to worry. I was severely exhausted.
I don't know how or why I picked it, but I rode up to the Seven Knights Motel, walked in, and asked about a room. The price seemed a little steep compared with the day before, $27. Besides, it was on the fast food, motel strip along the highway and I would rather be in town.
The motel manager/owner told me that I'd find nothing else available since people were in town for a big horse race the next day. He seemed, and later proved to be, a good guy, so I took his word and accepted the room.
The owners of the Seven Knights Motel were married, in their thirties, and both very friendly. She was beautiful, in appearance and in spirit, mature, and charming. He said that I looked like I had been out jogging. I told him about my bicycle, where I'd come from, and how the wind had been in my face all day. He was a cyclist and he understood what I was talking about.
His wife said she hadn't noticed the wind that day and we, her husband and I, explained how the lightest headwind can be frustrating. He told about an experience riding to see his relatives one afternoon and trying to tell them what a rough headwind he'd had to ride in. They didn't understand. We (he and I) nodded. Only a cyclist understands. He expressed a passing desire to join me.
I went to my room, unpacked, and left to look for dinner. I tried a tavern, but there was no food there. The people reminded me too much of the night before in Grand Island and I decided to leave and find something I could take back to my room. Just to be sure about tomorrow, I asked someone if there were any liquor laws that would prevent me from buying beer on a Sunday. I was told that I'd have to wait until after noon.
I was on fast food row. There wasn't anything worthwhile. I ended up with a couple of tacos from Taco Bell, a small roast beef sandwich from Arby's, and some milk from the 7-11.
Riding in Columbus, at night, I noticed that people were not used to mixing with bicycles. People honked, were afraid to pass, and I even got yelled at. I ended up riding off the road, through mall and restaurant parking lots. Most of the cars were full of teens cruising on a Saturday night. There must not be much else to do in Columbus.
I returned to my room and, needing ice for my beer, left my dinner and went to the office for ice. When I got to the office I met the wife sitting alone in the office lobby watching a movie on HBO. She was, as I said, very attractive. It was also a pleasure to talk with her. I'd been on the road a long time and have to admit that I could not tear myself away. My dinner could freeze. She was the kind of woman that would make a great friend. We talked about the movie (Point Break), traveling, the nature of men and women, life, and other more ordinary things.
Her husband came into the office and she expressed a tongue-in-cheek fear of what he might be thinking. No, not jealousy. She knew he was giving serious thought to joining me the next day. He admitted it. He would have loved to meet me in the morning and ride to Minneapolis. He had too many things happening at home to be able to do it, though. They were in the process of buying the motel next door and were doing some remodeling. I told him not to wait too long to pursue this dream. The body doesn't get younger.
Back in my room, I had my cold dinner, some beers, and called an old girl friend before going to sleep.
Stats:
63 miles from 12:00 - 6:30
average rolling speed - 11.9 mph
It was another flat day. I didn't bother recording my elevation or elevation gain.
I was now 515 miles from home, well over half way to Minneapolis.


---
The Platte River Valley -- Part VII
When I looked out the window, on Sunday morning, it was raining, so I went back to bed. An hour later, the rain had ceased so I pulled myself together and headed out the door. While packing my gear I met a teenager that was cleaning rooms. He was kind enough to help me, as I had to put my camping gear into garbage bags and this makes attachment of bungee cords trickier. He owned a mountain bike and was inspired by my trip.
The Happy Chef restaurant was right next door. I strolled over and ate a big, hot breakfast. There were lots of people in their Sunday-go-to-meeting clothes. The meal was good and by noon, I was on the road, into the wind.
Once again, I had a strong headwind, only this time I was covered by a low blanket of clouds, and it was colder -- under 50 degrees. Rain was imminent. The going seemed harder than the day before and I was glad that I only planned to ride 50 miles.
The riding was tedious. I could barely keep my speed over ten mph. I put my head down, and out of the corner of my eye counted telephone poles. I could see the first town coming into site, but it didn't appear to be getting any closer. If I counted ten poles between looks I could see my progress. I stopped three times for a break before getting to Schuyler, just 17 miles away. There, I bought some bananas.
I wasn't wearing my rain jacket, as the sky never did more than spray a fine mist. I wore a t-shirt, sport-shirt, sweatshirt, gloves, and shorts. After a ten or fifteen minutes of pedaling I'd reach a sort of equilibrium and be warm enough. Stopping made me cold, so it felt good to be inside the grocery store in Schuyler.
I rode on, slowly and laboriously. The town of Rogers, population 69, was almost deserted. There was nothing but homes, a church, and a ball field. I continued down the highway and pulled off by some out buildings to relieve my bladder. I had the water routine down good by this point.
I began to notice the scenery and to appreciate the beauty of the day. It would be even nicer if I were inside next to a fire, but it was still beautiful. The low, gray ceiling of clouds sheltered me. It gave me a sense of security, as though the sky was no longer an endless and unknown expanse, but had well defined and safe boundaries. Like a favorite room. The wet greens and grays provided a palette of soft colors.
I kept riding until 3:00, when I got to North Bend, population 1300. I stopped in the gas station mini-mart on the highway for some milk and a candy bar. I received directions to the town park and started looking for it. On the way I saw a magnificent church. I almost rode by it, but returned since it had grabbed my attention so. I thought about it, too. Today was Sunday. What better place to eat my lunch. As I rode past the front of the church, I saw that it was the St. Charles church, built in 1915. Another reason to stay. My saintly namesake.
It was a big, dark brick church with two grand, copper-domed towers in the front that were topped with crosses reaching 100 feet into the air. The building was surrounded by lush green grass and mature hardwood trees. I found a spot about half way towards the back, on some moldy, old, concrete steps, and sat down to eat my lunch. The day had gone from worse to better, and I was glad that I'd found this lunch spot. A frog joined me.
As I prepared a peanut butter and jelly sandwich (still using the jelly packs from the Econo-Lodge), an older woman came out of the tan ranch house about 75 feet away. She stood still and asked if I was alone. My stupid mentality immediately clicked -- oh shit. I don't belong here. I've never been catholic. I don't go to church, let alone belong to any organized religion. She's going to chase me away.
What ignorance.
After I said yes, I was alone, she walked forward a few paces, stopped and asked what direction I was coming from. I could see now that it was she who was afraid of disturbing me, so I rose in a gesture of politeness. She came closer. "I've come from Colorado," I told her. We both smiled and she walked over.
"I'm Sister Bernice. I have a nephew who's riding across country with his friend. They're going from east to west and are due to come through here in another week. The Father was looking out the window when he saw you and said I should see if you were my nephew's friend."
"Well, I'm not him. I'm riding alone and in the opposite direction. Do you mind if I eat while we talk?" I asked, politely.
"Not at all," she said. "You're probably hungry."
What a beautiful meeting. We talked of little things like how much energy there is in peanut butter, why it's ok to drink chocolate milk when you're riding your bike all day -- little, inane things like that. I showed her the frog. She said, "I bet you see lots of wildlife."
"Yes, unfortunately most of it is stiff, flattened, and dried out, lying on the road."
Sister Bernice wondered what it was like to travel so frugally and independently. I told her that the perils most people imagine are nonexistent and that it was a reaffirmation of the human spirit to experience the basic kindness of the people of middle America. The real Americans.
Just then the Father walked out of the ranch house and asked if I was her nephew's friend.
"I'm a wanderer, Father, but not the one you're looking for."
Father Daniel, came over and joined in the conversation. He and the Sister were both fascinated by what I was doing and even seemed a little naive about the world outside of North Bend, Nebraska.
I commented about the beauty of the church and Father Daniel told me more about it. It was built in 1915 by the original settlers of North Bend. The towers, now tarnished with age, were in need of refurbishing. They wanted to raise enough money to get it done, but people didn't seem as willing to invest in the church as they once had.
He told me there was a grand wooden sculpture behind the altar that one man had carved single handedly back in 1915. Then he told sister Bernice when I was through with lunch, to unlock the door and take me on a tour.
"Would you like a coke or something?" Father Daniel asked.
"No thanks, this chocolate milk is just fine."
"Why don't you come over to the house for a beer?"
"That's a nice thought, but I'd just as soon not have any alcohol this early in the day. I plan to ride another fifteen miles and even one beer can take the wind out of your sails."
Repeating his invitation, he said, "surely, one beer wouldn't hurt. Come on over."
"Thank you father, but I really shouldn't."
"Yes, I understand." And then he said, "I know it's early in the day to stop, but if you like, we have room in the church and you can stay here."
"It's early and I want to use the daylight to get to Fremont."
I was thinking of destination. Thinking ahead a day or two. I wanted to get to Sioux City, Iowa the next day, and felt it was important to cover the next fifteen miles, to Fremont, today, and not tomorrow. Being 3:30, it really was too early to stop. The father understood and was gracious about it. I couldn't help thinking, later, that I had passed up a fine opportunity to experience more of middle America. But I had my head buried in destinations instead of exploration. I had a goal and felt it necessary to reach it.
As I packed away my lunch fixings and got ready to ride, the Father started walking back to his office to take care of some business. Sister Bernice and I walked up the concrete steps on the side of the church and paused as she unlocked the door. When I looked back the father added, "good luck on your journey," and he gave me a blessing.
The inside of the church was fabulous. There were beautiful tall, stained glass portals up and down the sides of the church, an all wooden interior, and a high ceiling with ornate decorations. Behind the altar was a great twenty foot high wooden sculpture. One of the life size figures carved there was St. Charles himself. I asked Sister Bernice who St. Charles was, but she didn't remember.
As we stood near the front of the church, by the altar, I noticed an unopened box of Kodak film on a hymnal in the pew next to me. Thinking that some parishioner had inadvertently left it there during the morning service, I picked it up to give to the Sister, thinking she would hold on to it. Instead, she told me to keep it. I told her I didn't feel right about that. Someone might come back looking for it and they'd be happy to get it back. She said she'd say she hadn't seen it.
This was strange. Sister Bernice and Father Daniel were not behaving the way I would expect. Drink beers, keep found film. The sister said it would save me some money, and she was right. It was a roll of Kodak Gold 100, 35 mm, 36 exposure film, worth about $5. The same kind of film I use. I tried one more time to give it to her and she said "Take it. It's a present for you." I stashed the film in my shirt.
We walked outside the church and I told the sister that I hoped her nephew would arrive safely and have nothing but good fortune. She wished the same for me and reminded me that the father had blessed me.
Before I left North Bend, I took some pictures of the St. Charles church. I'm amazed at how much energy the early settlers put into building churches, and schools. What a project that must have been in 1915.
Just a few miles down the highway, as I stood up and pedaled in my highest gear, a technique I'd adopted to relieve my blood starved butt, I felt my rear tire slide sideways as though the bike was going to come out from under me. I stopped. I had a slow leak. Not a flat, but a very soft tire. As I was just ten miles from Fremont, I decided to pump the tire up, without repairing it, and see how far I could get.
I couldn't help wonder if the Father's blessing was becoming a curse because I had refused his hospitality.
Still riding into the wind, with the gray sky hanging above me, I made a dash for Fremont. I made it seven miles before stopping to put more air in my tire. I was going to make it. I could fix the flat after I unpacked and while in the comfort of my motel room. A small relief, but a welcome one. Thinking of my predicament, I parodied a Beatles song.
"I'm fixing a whole,
where the air gets out,
and stops my bike from wandering.
Where it will go, o-oo, o-oo
Where it will go, o-oo, o-oo."
I rode past the intersection with highway 77, my route to Sioux City, crossed the highway and shopped around at the bigger motels to the east. It was a waste of time. At the cheapest motel, the Budget-Tel, a single room was over $35.
I was near a grocery store, so I bought my supper, a turkey sandwich, a salad, some milk, fruit, and juice for my breakfast.
I returned across highway 77 and stopped at the Seven Motel. It was owned by a man from India. His price for a single room was $24 and he assured me that the other two motels on this side of the street were trashed. When I told him about my journey, he wondered how I could travel in this cold weather. He compared my journey to that of a Buddhist monk.
I got to my room, unpacked, and walked across the street to get some beer. The woman in the convenience store, seeing me by the cooler said, "I hope you're not looking for beer, because we can't sell any today." It seems that there is a local ordinance in Fremont prohibiting the sale of alcohol on Sundays. Damn!
I asked where the nearest place to buy beer was and she said it was a couple of miles back out of town. I went to my room, repaired my flat tire (there was a small nail in the tire with the head worn off), and began retracing my pedal strokes back along highway 30. The nearest liquor store was three miles out of town, by the spot where I'd pumped up my tire the second time. All in all, I rode six extra miles, three of them back into the now waning headwind, for a six pack of beer.
"And I would walk five hundred miles,
and I would walk five hundred more.
And I would walk a thousand miles,
just to be the man whose hand caresses you."
When I got back to my room, I opened a beer and stuck the rest of the six pack outside my door. It was less than 50 degrees out, cooler than in the room. I relaxed a bit and then went for some ice. When I came back I noticed my beer was gone. In this little town, in the heart of Nebraska, someone had ripped me off. I was flabbergasted, angered and unbelieving. It wasn't the four and a half bucks that bothered me. It was the six miles I'd ridden for those beers, and that they were mine.
I stood outside my door staring into space trying to keep a grip on my frustration. My neighbor, a retired guy traveling alone, pulled into the parking space in front of my room and asked if it was all right to park there. It seems that someone else had parked in front of his. I told him I didn't need it, so he parked, got out and walked over. Then I told him what had happened and of my frustration. I was looking around hoping I might see something.
"They're not likely to bring it back, you know."
Without my asking he walked back over to his truck and said, "come on, let's go get some more beer."
Carl was his name, and he'd just bought a new little red pickup that we rode back to the liquor store in. He doesn't even drink. When I offered him a beer back at the motel, he said, "If I drink one I may as well drink twenty." We talked for a couple of minutes, and then this good samaritan excused himself to retire to his room for the rest of the evening.
I couldn't help but reflect on my day, thinking that I'd taken a wrong turn when the spirit road forked at the St. Charles church in North Bend. By refusing Father Daniel's generosity I had transformed his blessing into a curse.
But for all I knew, his blessing had saved my life and allowed me to arrive safely. Perhaps, without his blessing, I'd have been road kill. It was not a simple matter, but I finally decided that I hadn't cursed myself and that Father Daniel's blessing, having done me well, would continue to do so.
Tomorrow I would be leaving the Platte River Valley and, after crossing the Missouri river, leaving Nebraska. So long you pioneer trails.
Stats:
I only rode 47 miles, from noon until 5:30. My average speed was 11.2 mph and I was 563 miles from home. 400 miles left to go.


---
From the Platte to the Missouri
Leaving Fremont, I began climbing north, out of the Platte River Valley. I spent the entire day riding on rolling hills. I got started at ten A.M., so even with the headwind that accompanied me, I knew I could make Sioux City, Iowa before dark. At day's end I would cross one of one of the two mighty "M" rivers, the Missouri.
One of the fine things that happened on this day was the dissipation of the headwind that had plagued me for the previous two days. That,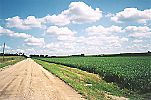 and the new, varied terrain, made for an easier and more pleasant day. It was also a big sky day. A vast expanse of pure blue sky was dabbled with large white cumulus clouds, like piles of cotton balls. At the tops of the hills I could see for miles in every direction. There were rolling green fields dotted with farm homes under the huge blue and white sky.
I would pass through two Indian reservations later in the day, the Omaha and the Winnebago (makers of fine motor homes). Not knowing what to expect I planned ahead to have plenty of food and water before entering the reservations. I believed that things would be different, more impoverished, within the reservation.
Riding past empty schools, and noticing high school kids cruising on the highway, reminded me that it was Labor Day. In the morning, between the towns of Winslow and Uehling, I played leapfrog with a Dodge County Sheriff who was ticketing speeders along the highway -- mostly teenagers with nothing better to do. I passed him on the opposite side of the road as he sat with his radar. A few minutes later he would pass me, lights flashing, in pursuit of a speeder. In a couple more minutes I'd pass him and his prey by the side of the road. Shortly after that, he'd pass me, and resume his post a few more miles down the road, where I'd pass him again. I saw him for the last time at the county line in Uehling and waved goodbye.
In Lyons, I stopped at a restaurant called Grandma's that was right along the roadside. They were having a cheeseburger special and I had mine with a chocolate shake. This was the first of many restaurants I saw called Grandma's. I concluded, while on this trip, that "Grandma's" must be the most popular name for a restaurant. The cook gladly filled my liter and a half water bottle and I was back on my way, towards the Indian reservations.
When I entered the reservation nothing happened. The scenery didn't change. Nothing seemed different. I was disappointed. I was expecting to see something decidedly native American, but there was no evidence that I was on a reservation. The land was as fertile as it was in the surrounding countryside. Shortly before leaving the reservation, I stopped at a grocery store and bought some bananas and soda pop. Between the heat and the hills, I was working up a sweat. The grocery store clerk was a teen, native American. He came outside to talk, while I drank my soda pop. He'd driven the highway that I was going to follow all the way into Minnesota and the Twin Cities. He said the road was mostly flat.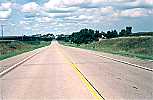 As the day wore on the hills got higher and higher. These were rollers as I like them. They rose from thirty to over a hundred feet above the surrounding country side. They were the type of hills that you can attack, as once you hit the top, you get a free, fast, ride, coasting down the opposite side. I could attack from the bottom, staying in a relatively high gear. Then, as I became worn out, about two-thirds to three-fourths of the way towards the top, I could stand up and "run" to the crest of the hill. At the top I'd be depleted of oxygen and strength, but I recovered as I coasted down the other side. This broke the ride into pieces: long range goals -- the highest hill, off at the horizon; intermediate goals -- the hills in between; and a quick, immediate goal -- the approaching hill.

After six hours of riding I began to enter the metropolis around Sioux City and finally came to the bridge that crosses the Missouri river -- another great path for the early pioneers and explorers, and a great channel for commerce. I stopped at the crest of the bridge to take pictures. I was elated to be crossing such a well marked goal. I was leaving Nebraska for the state of Iowa -- "Come Explore the Heartland."

From the bridge, looking north, I spotted a riverboat gambling casino (what river city doesn't have one of these now?) and a paved path that ran alongside the riverbank. I came down from the bridge and began to follow the roadway that paralleled the river. I wasn't sure how I was going to find a motel in this city of 85,000 people.

Just a few nights ago, in the Econo-Lodge in Lexington Nebraska, I'd seen parts of a TV movie depicting the fiery plane crash that had occurred in Sioux City when a United DC-10 lost it's hydraulic system and crash landed in a flaming cartwheel. I couldn't see the airport from the bridge.

As I approached the riverboat, I saw a motel to my left, across the roadway. The Imperial Motel was advertising single rooms for $24.95, not a bad price for a room in a city of this size. When I told the middle eastern clerk that I wanted to shop about and would likely be right back, he made me an offer. I wasn't looking for one. I just wanted to look around a bit, since I had the time to do so. He said that since I was riding my bicycle such a long way he would give me a break and let me have the room for $22 plus tax. I decided not to shop around. I think he needed to fill some rooms, as it was Labor Day and there was no one else staying there.

I checked in and found the bar where I had a couple of beers with the two other people there. I went back to my room, took a shower and relaxed for a while. It had been a long, but beautiful and enjoyable day.

When I returned to the bar, Commodore Tom's Lounge at the Imperial, there was just one other person and the bartender, Katie. The fellow at the bar was an insurance salesman. As we talked, I mentioned seeing the TV movie about the plane crash. He and his daughter had been extras in it. The kind that you miss if you blink. Then he told me that today was the last day that United Airlines would be flying into or out of Sioux City. Finances had dictated it. As we spoke three men walked in the front door and he said hello to them. He guessed correctly that they were a flight crew. As it turned out they were a United flight crew. The last crew. Tomorrow they were going to fly the last United plane out of Sioux City.

Dinner was hard to find, as all of the nearby restaurants were closed on Labor Day. Luckily, I found one just as they were closing and got a chicken stir-fry and salad that I took back to the bar. The only ones there now were Katie the bartender, and the flies. There were a lot of flies in Sioux City. Taking a swig of beer, I felt a solid object enter my mouth. Reacting quickly, in disgust, I picked it out with my fingers. To my surprise, it flew away. Katie said that this was not a bad year for flies. They're usually worse.

There would be no Dave Letterman tonight. The CBS affiliate in Sioux City is too cheap to pay the fees needed to show Letterman. That's why he pokes fun each night saying that his top ten list is from the head office in Sioux City, Iowa.

I talked with Katie until she was ready to close the bar, about 10:30, and retired to my room.

I'd ridden 75 miles from 10:00 to 5:00 with nearly 1400 feet of climbing, on the rollers. I averaged 13.2 miles per hour. I was 637 miles from home.


---
Across Southern Minnesota
On the morning after my RAIN Corner Century (Chapter I), I was in Worthington Minnesota. Before leaving town, I stopped at the super market and had some fruit, a cinnamon roll, juice, and milk. I also replenished my supply of Ibuprofen, as I was still taking 3200 mg a day. It was a sunny, blue sky day with not a cloud in the sky.

Shortly after leaving Worthington I stopped in a line of cars waiting to get by some road construction. I was glad to see the construction as this pavement was in the worst condition I'd encountered yet. It was very bumpy going. I sat in a line with a dozen cars as we waited for the pickup truck with a big sign saying "Follow Me" to return to our end of the construction zone. It arrived after a ten minute wait and we proceeded down the brand new black, unstriped lane towards the line of cars waiting in the opposite direction.

The line of cars traveled between twenty-five and thirty miles an hour. With a strong tailwind I was able to hold my place in line. The car behind me didn't even try to pass.

Once past the construction zone, after the rest of the cars passed me, I was riding alone on freshly laid blacktop with brand new bright stripes down the sides and up the middle. Because of the strong tailwind, this was my fastest morning. I was cruising along at 24 mph, riding no handed within a still pocket of air, feeling and hearing no wind. Oh, that all my days might be like this. Even better, there was no traffic. The construction delay behind me throttled the traffic so that I only saw traffic every few miles as the cars passed me, en masse, from the construction zone. Then, for the next ten to fifteen minutes I could continue riding no-handed down the middle of the road, listening to the birds chirping in the fields.

I averaged 21 miles an hour for the first hour and a half until I reached the town of Windom, where I stopped at a Chamber of Commerce office and picked up a Minnesota State Highway Map. Later, when I stopped for lunch near the town of Mountain Lake, I'd covered 35 miles in just two hours. I leaned my bike against a guard rail and ate my peanut butter and jelly lunch by the side of the road. The flowers I'd placed in the pocket of my handlebar bag were a good indication of how much I was enjoying this day.

As the road turned a little more eastward and the wind a bit more to the north, the tailwind became more of a strong crosswind. I slowed down, but continued pedaling along the shoulder of the four lane, divided highway, still traveling at a respectable speed.

When I got to the town of St. James, I took a shortcut that exited highway 60. I rode through St. James, a fine looking, little, rural town, and followed county highway 13 to Madella where I rejoined highway 60, which was already in progress.

It was wonderful to get away from the motor traffic on highway 60. I stopped at a gas station/mini-mart for a candy bar and water refill. The young clerks were struck dumb by what I was doing. I was in high spirits. I was getting very close to my destination, having been on the road for eleven days since leaving the foot of the Rockies. The scenery was getting greener and the people seemed more familiar. I followed a school bus out of town and onto the county road.

The wind was turning against me and one of my knees, I forget which one, starting causing me some real misery. Still, the scenery was beautiful and the ambient sounds of the countryside were redeeming. I passed large farms with beautiful old homes. The town of Grogan was nothing but a two block stand of old ranch homes in the middle of farmland. I was on an eleven mile stretch of road that had been dedicated to a former governor of Minnesota who had used this road to travel between Madella to St. James in his early lawyer days.

I began to focus on my knee. It was hurting me -- slowing me down. When I rejoined highway 60, I was 70 miles into the day with 20 left to Mankato. I tried to avoid thinking about distance and my knee and struggled on towards Mankato.

Just before reaching Lake Crystal, about 12 miles outside of Mankato, I heard a voice from behind me shouting, "only 12 more miles to go!" Then I saw a body leaning out of the cab of a Mayflower van as it passed me. It was a guy I'd met at the lounge in Worthington where I'd had dinner the night before. His whole upper torso was sticking out of the passenger window of the cab. He and his partner were on the home stretch of a trip that had taken him south to Arizona and LA. He told me juicy stories about his time in Las Vegas and showed me the calling card of a call girl he'd spent the day with while he was there. The call girl had been very expensive. Anyway, we'd had a fine time talking at the bar the night before and I told him that I'd be trying to ride the 90 miles to Mankato on highway 60. It was rewarding to see him so enthusiastically salute me as he went by.

In Lake Crystal I spotted a Dairy Queen and decided that, with just 10 more miles to go, into the wind, I'd take a break to regather my forces. I noticed something that I must share with any fellow, knee-pain stricken riders. I ordered an ice cream cone with chocolate dip, stood in the dining room of the Dairy Queen watching the talkative, self-advertising video games, and ate my single dip cone. When I got back on my bike my knee pain had completely disappeared. It was a mystery to me, but a welcome one. The Dairy Queen cure. I'll have to try it again some day. In the meantime, try it yourself.

When I got closer to Mankato, a college town of more than 30,000, I began to see a few bicycle commuters along the highway. I took the first exit into North Mankato and relied on a convenience store clerk to get me to the downtown Holiday Inn. There, an attractive young clerk asked if the wind was still blowing. She'd been out riding her bicycle in the morning. After telling me how expensive their rooms were, she very graciously called ahead and marked a map to guide me to the Budget-Tel where I got a room for $32. I let Mr. First Bank Visa pay for this one.

Liquor stores can be hard to find in Minnesota towns. The motel clerk at the Budget-Tel directed me a couple of miles back into town where I found a liquor store and a restaurant called Bobby Joe's. I had a big, juicy cheeseburger and a couple of beers. Someone played an early Beatles album (CD) on the juke box and it sounded so good I couldn't leave. I hadn't heard any good music, other than in my head, since I'd left home. I talked with a few people about route preferences south from Minneapolis (should I take the Minnesota side of the Mississippi -- highway 61 -- or the Wisconsin side) and again noticed that the people seemed more familiar to me than in Nebraska.

While I was standing outside, slapping at mosquitoes, talking to a couple of locals, they mentioned that there had been a bumper crop of the "Minnesota state bird" that year. If I stood still for just a moment, even in town, they would begin to gather on any bare skin. I got moving.

I went back to my room, rested on my soft bed, once again laughed at Dave, then fell soundly asleep, having ridden two centuries in as many days.

I'd ridden 96 miles from 10:15 A.M. to 5:00 P.M. and averaged 17.6 mph. I'd climbed 520 feet and hit 35 miles per hour riding with the wind that morning. I hoped to spend the next night in Northfield, home of the famous Northfield Raid, and be at my brother's house in Stillwater the night after that.


---
The Sakatah Singing Hills Trail
The Budget-Tel's $32 price came with a free continental breakfast. That was fine with me. I called the Tourism board looking for the bicycle maps I'd read about the day before. They didn't have any, so I called the Department of National Resources (the DNR). After an extended conversation I found that they didn't have any, either. Then I called the Department of Transportation (the DOT). They had some. Minnesota has a very fine set of bicycling maps. There are four large scale maps that divide the state into quadrants and some 30-odd more detailed maps covering small portions of the state. These maps (like Wisconsin's) are better than anything I've seen anywhere else.

I made the short, but very steep climb, east from North Mankato, out of the Minnesota River valley, towards the DOT on the far east side of Mankato. There I was able to purchase the southeast quadrant map and one of the detailed maps covering the area between Mankato and Faribault.

Nearly everyone I'd talked to in Mankato told me about the bicycle path (multi-use, really -- skiing, snowmobiling, bicycling, walking, but thankfully, no horses) from Mankato to Faribault -- the Sakatah Singing Hills trail, about 40 miles long. I was able to hook up with it just outside of Mankato, and I was thankful to be on a sheltered path as there was a strong wind blowing from the north across my path.

Before getting on the bike trail, I stopped at a well supplied convenience store where I was able to get more breakfast, and a sandwich and chips for lunch. A very kind woman worked there. She told me about her grandchildren and helped me find the better food items in the store. While I was there I decided to check my bank balance via the pocket teller. Once again, as I'd done outside of Grand Island, Nebraska, after counting my daily ration of money, I failed to insert it into the bottom of the pocket of my shorts.

I struggled north on highway 14 past the turnoff towards the west and rode onto a small, dirt county road. I was riding into a stiff headwind. Thankfully, I only needed to go a couple of miles north as I was unable to go more than seven or eight miles an hour. The intersection with the Sakatah trail was just a hundred yards down the dirt road.

Where I met the Sakatah trail it was paved and for the next 10 miles or so it stayed that way. What bliss. Smooth road surface and no vehicle noise, riding midst wetlands and small lakes. Reaching into my pocket for my knife, I noticed that my money was gone.

Geez! Not again. Should I turn back and look? . . . No. That was pointless. This was the second time I'd done this and I couldn't let go of the frustration at the stupidity that had cost me another $20. I already felt I was spending too much money and my obsession with these thoughts nearly spoiled a fine day. I tried saying goodbye to the money by picturing someone else finding it and using it. After a couple of hours (I can be obsessive some times) I convinced myself that, traveling as I was, on a bicycle, close to ground, I was bound to find something as I traveled. If I let go, fate might pay me back. I was able to drop the thought and I carried on with a fine day.

Once the blacktop ended the trail consisted of compacted crushed limestone. There were a few short, soft spots where I had to pick my line along the trail, other than that the surface was well compacted. This was the first of many "rails to trails" type paths that I would be riding on. There seem to be a good number of them in Minnesota and Wisconsin. They are laid out on abandoned railroad bed.

I began to see some of the 10,000 lakes (I've heard there are actually many more than that) as I rode through hardwood forest, wetlands and farmland. It was a weekday (Thursday), and there were no other people on the trail, I had it to myself. Seeing and smelling the lakes reminded me of ones I'd swam in as a child. In some sections the forest formed a canopy over the trail and I rode through a veiled, green translucent tunnel.

Any time I stopped, the blood sucking skeeters would get wind of me in less then a minute and I'd have to slap at them or start moving again. There were lots of them. And some mighty big ones, too. When I stopped by a picnic table along the path to eat lunch I saw one that was as big as a quarter, so I decided to eat elsewhere. Food in, blood out; one for one; no net energy gain if I ate there.

I stopped once and oiled my chain for the first time, as it was just starting to squeak. My chain had picked up dust from the limestone.

About one mile west of the town of Waterville there was a sign pointing to a campground in the deep, lush forest along the trail. I followed a narrow overgrown path to a flat little clearing of grass where there was a picnic table and a firepit. There was another path leading farther into the woods and about twenty yards down that there was a wooden commode over a hole in the ground. Nice digs, except for the mosquitoes.

In Waterville, the trail is interrupted and you have to find your way through town and back onto the trail. I stopped for some milk and rode to the city lakefront to eat my lunch. The sky was full of large cumulus clouds that were thick enough to appear dark gray and threatening. It was an unstable sky.

It was so nostalgic to be around small fresh water lakes. I grew up in the midwest and spent my fair share of time boating, swimming, and fishing in them. The scent of fish and pond scum, along with the sound of the water slapping against the bottom of a floating pier, was very familiar to me. It touched a spot deep within.

I stopped at a convenience store to ask directions and proceeded down the trail. Two miles east of Waterville was another larger and better marked campsite. This one had envelopes for paying a camping fee. It was much bigger than the first one I saw and could accommodate three or four separate parties quite easily. I'd loved to have camped there if there were some other people and about a thousand less mosquitoes. It might be a nice place to try camping when on a cross-country ski trip.

About five or ten miles west of Faribault the trail was skirting the backyards of homes and was only about fifty yards off the highway, so I chose to ride on the highway, as I could go a little faster on pavement. The trail ends at a Dairy Queen parking lot just as it enters Faribault. My knees weren't troubling me, but I stopped for another single dip cone for preventive measures. I pulled out my map and reading glasses to pick my route through Faribault to Northfield. I wanted to get there in time to see the Simpsons. You'd think I could let go of the TV, but it seemed to be my companion on this ride. Oh well. Whadda ya' gonna do.

There are a number of roads leading into Northfield. I decided to take state highway 3, marked as unsatisfactory on the Minnesota biking map, since it was a straight shot -- a straight line. I had no problems on this road. I found it satisfactory.

Leaving Faribault I had my favorite dog encounter . . . I didn't panic at all. I spotted Rover coming full speed, cutting a diagonal across an expansive front yard. I started yelling encouragement to get him excited. "Come On. Let's Go. Come On! I'm on my way to Northfield. Want to join me?" He enjoyed this so much that I thought he might slap himself in the eye with his tongue. Unfortunately he stopped once past his property line. I couldn't encourage him to go any farther.

When I was planning my trip at home I'd made a tentative plan to go through Northfield. I remembered seeing a movie, years ago, about the great Northfield raid. The James brothers, the Daltons, and the Clantons teamed up to rob the bank in Northfield, Minnesota. What they didn't count on was the hard-nosed Swedes that weren't going to sit by and let their money be stolen. A couple of civilians were killed in the initial gun battle and the further efforts of the townsfolk led to the capture of those bad old boys. I wanted to see Northfield.

I had to ride into the wind for twelve miles to get to Northfield. As I was riding into town, beaten by my twelve mile encounter with the wind, I noticed there was a carnival in town. Then I noticed a sign proclaiming this weekend as the anniversary and celebration of the Great Raid. What a coincidence. The annual re-enactment was only two days away.

I rode all the way to the north end of town, on highway 3, before coming to the College City Motel. I was glad to see they had a vacancy. After seeing the grand gala in town that weekend, I was worried that all the motels would be full. The price was right (under $25) so I took a room, iced down some beers I had with me, and watched my favorite TV family of the 90's.

After that I rode into town to look around and to get something to eat. I was due a sit-down meal. Northfield is a very pretty town on the Cannon river. I could have easily stayed there for a couple of days or more if I'd have had the extra money and I wasn't so close to my brother's place in Stillwater. There's a beautiful old restored hotel in town. If I had wanted to spend the money, I would have stayed there.

I had a cheeseburger and some Minnesota brews (Pigs Eye Pilsner, and another Ale I can't recall) at Grundy's Bar and Grill. While there I talked with a rather eccentric local who told me more about the Great Raid and tried to convince me to stay another day and a night so that I might see the re-creation of the famous gun battle. I gave it some consideration, but deferred to getting to my brother's.

This odd fellow told me about the eldest of the Clantons -- played by Cliff Robertson in the movie. He ended up in the state penitentiary that, coincidentally, is in Stillwater. He explained some of the local history. Northfield is home to a christian college (not unusual in Minnesota) and agra-industry. Malt-O-Meal is made there.

I bought a six pack at the city managed liquor store and returned to my room at the motel. As I was unlocking my door I noticed an elderly woman standing outside the room next to mine. I said hello and she introduced herself. She and her husband had just driven in from Louisville Colorado. Louisville is just a couple of miles from my home in Boulder. When her husband came back from the motel office she introduced me to him and repeated what I'd told her about how I'd gotten here. They invited me in for a quick cocktail.

"I don't normally drink," the eighty year old man said, as he opened his miniature, hard shell traveling bar and offered me a scotch.

I don't like hard liquor, but these people were irresistible, so I joined them. He said he couldn't let me drink alone and that he would be forced to join me. His wife, Lois -- the name of my late mother -- was a christian woman and a true tea-totaler. I enjoyed my short visit with these folks. Lois made me think of my mother and I was warmed by her caring, and friendly manner. She was glad to be visiting Minnesota, where they're both from. "The people are friendlier there than in Colorado," she said. He gave me his "business" card. It said that he's Chairman of the Board for "Sitmor and Doolittle."

I bid good evening to my elder neighbors and Lois wished me Godspeed. Back in my room, I gave my brother and sister-in-law a call to let them know I'd be arriving the next day, Friday. What great timing. My brother and I poured over our maps to consider my route. After much sibling rivalry and deliberation (he's my older brother) I decided on taking county highway 47 to Hastings where I'd cross the other "M" river, the mighty Miss. From there, he suggested that I take county highway 21, just inland from the St.Croix river valley, for the last 20 miles to Stillwater. At the penitentiary take a right and it would be easy from there. We decided that I'd meet him at their shop, Ultramarine Art Supplies. He said it was in a mall, the first building I'd see as I entered Stillwater from the south.

I asked him about county road 21. He said it was very scenic. He'd driven it before. I asked him if it was very hilly and he said, "no." . . . Of course, he's not a cyclist. I went to bed, ready for the grand finale.

I ridden 58 miles from 11:30 to 6:15 and averaged 12.5 miles per hour. I'd stopped many times along the Sakatah Trail to enjoy all the sensations of the beautiful and varied countryside. I was 892 miles from home.

---
Minnesota, Wisconsin, and Illinois - Continue?
---
Copyright (C) 1993 by C. Anderson - All Rights Reserved
---